To say the least, Windows Live is all about synchronization. Many who are using(or have used) Microsoft Windows Vista and Microsoft Windows 7 must be aware of this service from Microsoft but I must tell you, Windows Live is not just about PC based services but a lot more than that. It is a rather old service but I haven't seen many people using this service when it can potentially be a revolution if adopted. In this article I want to talk to you about the Web-based services of Windows Live.
To start with, one of the greatest features that I found, while using Windows Live was its easy Interface which is expected, being a Microsoft Product. It is not one of those services which has a lot of stuff that you need to do so as to be able to use it. It is very easy and gives a very nice feel.
Frankly speaking I don't know why I ever went on to use Windows Live myself as being a more greater fan of open-source software, I don't really prefer Microsoft based services at least for web-based funtionalities. This time though I definately was wrong with my belief. Windows Live Web-based services are just awesome for anybody who has a need for synchronizing all their profiles on various websites. Personally, I use a lot of services from various websites so a lot of times its really very hard for me to remember all the various usernames and the passwords that I use on those websites and to tell the least without my fingerprint/password manager I would have to create a new profile everyday (given my memory). Windows Live, has actually made it possible to link accounts on various sites into this single account that you have on Windows Live and then synchronize all the updates from those websites into this account. Even all the facebook, flickr, myspace etc. updates can be synchronized with your Windows Live account. Quite a revolution, but if think thats it, then, your deams are just not big enough. 😛
Hotmail, e-mail services provided by Microsoft has also been incorporated into Windows Live  and you can re-direct e-mails from any number of other e-mail id's into this Id, making your work much simpler.Well that's not all, there is more.
Messenger, chatting services from Microsoft, you can chat with any of your friends on Windows Live and also once you have connected your facebook or any other similar id's you can opt to chat with them too or maybe not. lol and yeah That's still not all,
The thing that revolutionizes Windows Live is the 25 GB free online storage space and this service is called Skydrive and the best part is, its just not about the storage, Skydrive features Cloud Computing, for those who know what Cloud Computing is all about, they will seriously understand why I call this service a revolution. Okay let me tell you a little bit of what you can do because of this feature; If you and your friend were working on a presentation you could do that simultaneously from different parts of the world and without even having Microsoft Powerpoint (being a microsoft service it only allows microsoft apps) installed on your system. Ofcourse, the online storage is very useful for creating back-ups of sensitive data.
No matter how much I talk about this service its still not enough and unless you try it and get the first hand experience of it you won't really appretiate this service. I would give it an 8 on a scale of 1 to 10. ENJOY ! 😀
SOME SCREENSHOTS FROM THE SITE :
THE MESSENGER (CHATTING SERVICE-INTEGRATED WITH FACEBOOK):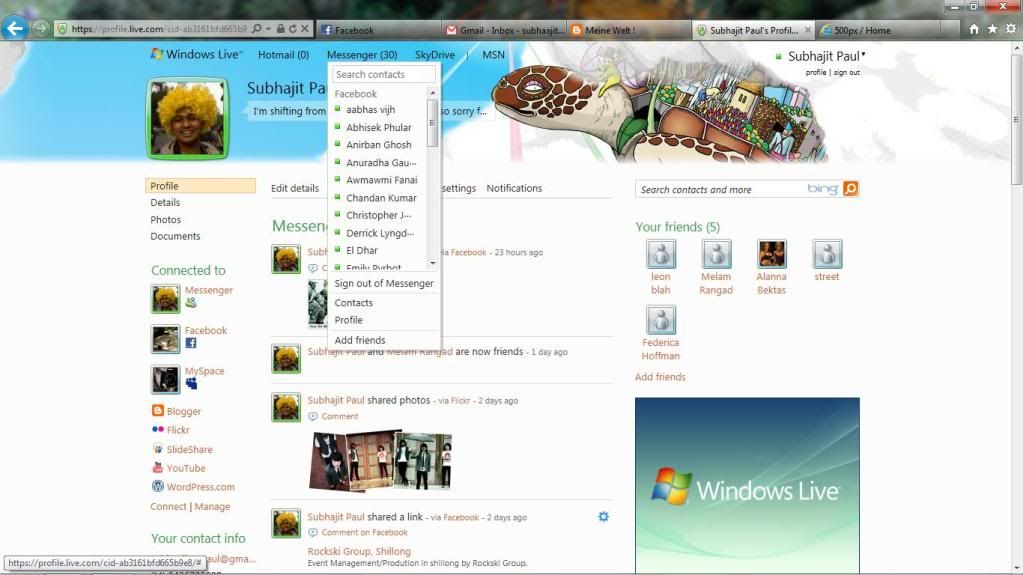 WINDOWS LIVE PROFILE PAGE :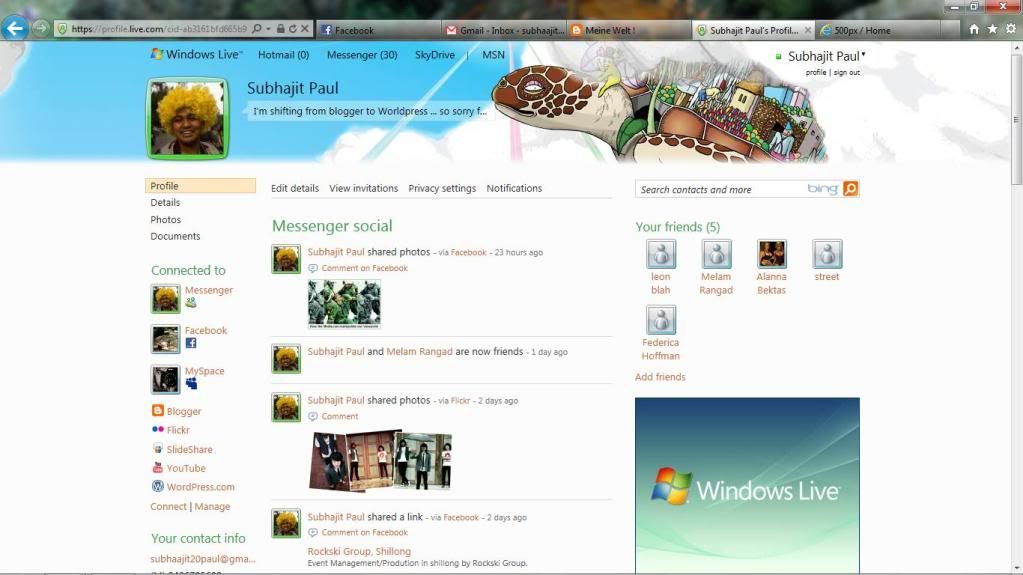 SKYDRIVE INTERFACE :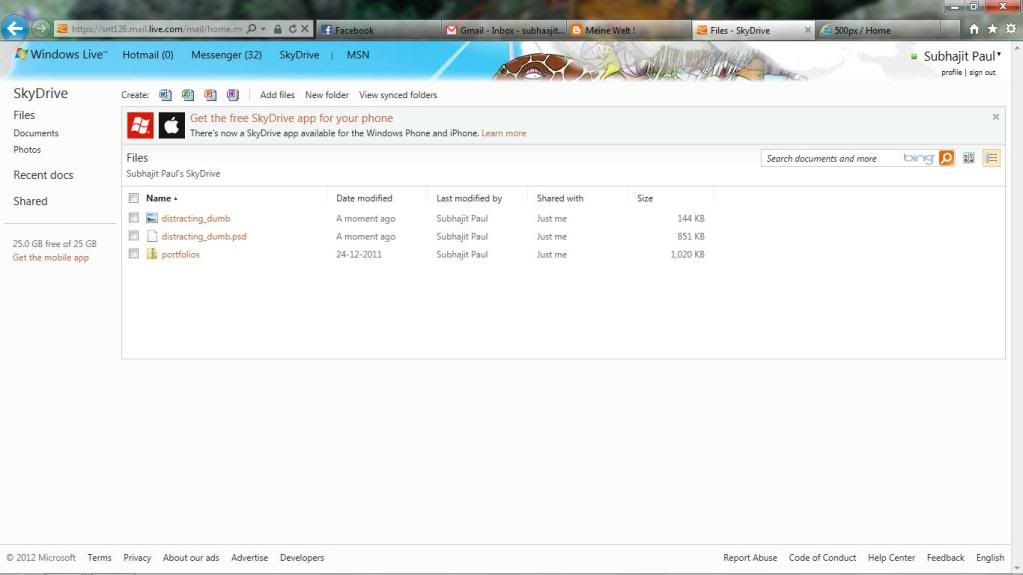 HOTMAIL INBOX :