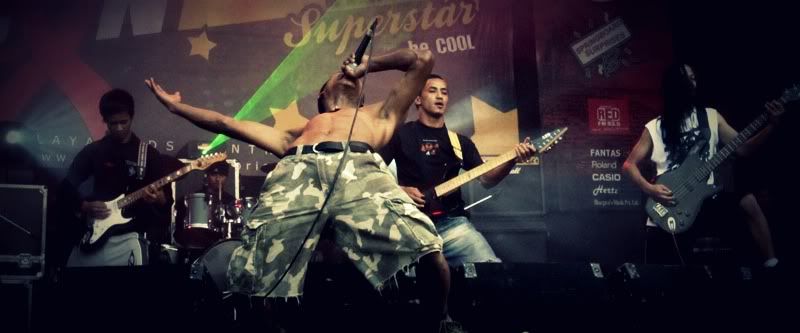 11Th Hour has spent an eventful year in 2011 touring for a cause across the state as "brand ambassadors" of Meghalaya Aids control Society, imparting knowledge and awareness to people of all ages, sex, cast,creed, even color all round concerning HIV/AIDS.
Read on as Chameleon Press meets with the boys to dig out some info relevant to their experience as role models, to the many in the state who had been edified by their music to prevent aids and keeping the promise, to pass on the message to other fellow beings like good Samaritans 😉
–Hi guys! Welcome aboard to Chameleon Press, first up how has the past year been for the band?
11th Hour:
Hey!!!Greetings from 11th Hour..well,the year has been a real roller coaster ride for us.And there has been many changes that have really affected the band,in particular!first off,we bade goodbye to Founder/Guitarist Meban Pyngrope,who has been replaced by Criss(Deadnote).meban really was the sound behind the band,but sadly,could not commit time due to studies constraint,and thus has left a big vaccum in the band.But Criss is really working overtime to fit in,and We think the band is slowly,but surely coming together again.On the other side,we have finished recording 3 of our songs,and we think an EP is on the cards,sometime this year.Out of these 3 songs,one raw cut(Divine Death)has been released online.And of course there were gigs,and the Road Tours with MACS,all over Meghalaya.So yeah,2011,was Rockin' to say the least.
–You guys we're former Meghalaya Icon, how was it like to have been Icons for a course of an entire year and inspiring many lives out there?
11th Hour: It was a huge huge honour and responsibility…See,the people think that being Icon is all about the "title" and stuff…No!its much more than that.We,as a band,personally saw to it that each and every performance had something to do with creating awareness about AIDS and HIV…so much so,that even in the Hornbill National Rock Contest,Aaron very nearly asked the crowd"To Stop AIDS and Keep The Promise(slogan of MACS)lolzzzz…..and of course we feel humbled when people come up to us and tell us that music has really affected their perspective,and how it has been a stronghold in their lives…
-When being Meg Icon you guys have travelled to every nook and corner of the state, aiding "Meghalaya Aids Control Society" in spreading awareness about HIV/AIDS. And in the process, it's understandable that some of the people in those parts are completely ignorant concerning this issue. Has all the experience of educating them through your music, shaped a new perception towards your attitude as performing artistes?
11th Hour:Well,to say that"educating the people through our music is fairly correct"–We Reached out to them thorugh our music,I would say.We provide them that spark to come forward and participate,and all this can be done by empathising with them,etc.But yes,it has really opened our eyes,about the power of music,and how barriers can be broken…just at the strumming of a chord!!
-The past year, was a year flooded with Independent releases and even this  year, is presumably going to be a year of outpouring Indie releases by many bands and musicians alike, here in our country. With that in consideration; when can fans expect a release from 11th HOUR?
11th Hour: Well,as said anytime this year,we are releasing our EP,titled"Against All"….as and when the whole production process is done!!!
–Besides bands, what are the elements or driving forces that influences rather inspires 11th HOUR's members on a regular basis? Whilst doing the thing that they love and are intensely passionate for.
11th Hour:Well,all of us have a common influence-Metal Music.Individually,we are very very differently influenced..Joey is really influenced by life, death, politics play, and even Vampires,Lycans etc…Aaron is a fun loving guys,and pranks around all the time…but he can get srious at times,and can intense when "under the influence" .Basically,everything funny influences him!!lolzzz..Banbit is quite shy and held back and just like the bass sound,provides that sound logic and stability.!!!Paul is always rational,and is never influenced that easily..he's always the cool guy…while Criss is big time into illusions,magic,trick etc etc…But yeah,another common thing about us is that We all love to laugh —alot…We are always cracking joke,making fun of each other..so much so,that for people who do not know us,they would not even dream that we are,a Metal band!!!
-Are you guys planning to continue to the future and make a solid career in music or is this just another sideline interest that you guys are pursuing?
11th Hour:We would'nt call it a sideline interest….But Our Life,Our Passion,Our Means to satisfy what we desire to achieve,be it in everything.But to make it as our career????well,its a no brainer..sadly…In Shillong,a day Job is the ultimate bread earner,unless of course you are another Soulmate(which in our opinion,has really made it Bigggg time)…but then you never know…the scene might change….
-Lyrically and thematically, what sort of approach are you guys taking?
11th Hour:Lyrically,everything goes…we never limit our creativity to anything..we write songs from Death,to politics,to Deception,to Envy and Decadence amongst humanity…and the same goes for theme..well,we never were and will never be a theme-based band….
-Which is that one song, you guys composed cheers up all the five of you, at all times in the world?
11th Hour:Divine Death!!(hehe..the irony)!!!,but Despised I Am(a new song) really pumps us up too…It charges head on right from the intro,is very "in-your-face" and everytime we play it,we feel really really charged up!!!!!
-As former Meg Icon, what is that one word you'd like to shout out to all our dear readers out there?
11th Hour: One word???really????hehehe…nothing much,just remember"We Are Responsible for our ownselves,Stay Safe,Stay metal….and Thanx For All the Support!!!"